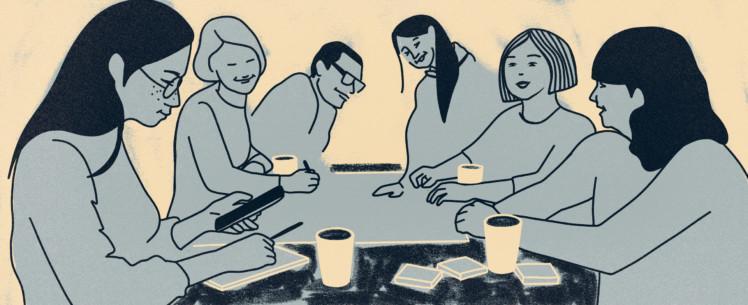 Juttutyyppi
Blogi
Collaboration across borders and professions
DVINE project offers holistic tools for competence-based curricula to promote dignity in Vietnam and Nepal. DVINE workshop highlighted the outcomes of the project.
Engaging students in active learning, DVINE workshop was held on 19–23 September 2022 at VID Specialized University in Oslo, Norway. DVINE workshop brought together two participants from Turkey, 14 from Vietnam, seven from Nepal, five from Finland and six from Norway. During the first two days, each partner institutions shared important outcomes from the project in terms of e.g. collaborative and multi-professional work, pedagogical innovations, student-centered learning and promoting dignity through competence-based curriculum.
Engaging students and teachers in student-centered learning process
The aim of the seminar was to engage participants into discussing the positive outcomes and challenges met during almost four-year collaboration between all seven partner universities from five countries. The themes varied from building the institutional capacity of the beneficiaries to modernizing nursing, social work and microbiology education through competence-based curriculum development and implementation.
The underlying idea in the education of future healthcare and social welfare professionals is to focus on student-centered learning and comprehensive multi-professional approach with the aim to improve interdisciplinary relations through learning about, from and with each other. Online teaching and learning enhanced multi-professional competence and collaborative activities despite students' and teachers' geographical locations, educational settings and restrictions caused by the covid-19 pandemic.
Collaborative learning with others, even from different countries, was seen as an important learning experience for students.
Collaborative learning with others, even from different countries, was seen as an important learning experience for students. It offered possibilities to compare country-related similarities and differences and, thus, getting cues how to develop practices in their own country. Shared online space with student-centered approach and peer learning strengthened students' English language skills, which is the key competence needed in international networks. All in all, most seminar participants felt that the project has been well corresponding with their needs and viewed the activities of the project as important and valuable to their institutions.
Dignity and student-active approach in learning
The Dvine workshop produced many interesting presentations focusing on the core topics of the project, such as student involvement in higher education. Dignity, as the main theme, was highlighted for the perspective of higher education program for people with intellectual disabilities and human rights in Norwegian nursing homes. The use of service users as experts of experience in teaching and learning was seen as an effective way to learn about the professional-client relationship, because real clients made learning situations more realistic for students and reduced stigma e.g. against mental health problems and elderly people.
Moreover, student-active approaches focusing on student-centered learning environments and the use of digital learning tools were seen important in the ever-increasing online learning. In addition, the importance of enabling student-active learning in clinical placements was also highlighted.
The use of digital learning tools in learning
Working almost four years mainly online due to the covid-19 pandemic has brought good experiments and innovations in the area of remote teaching and learning. In this project, simulation pedagogy was one of the pedagogical approaches to promote student-active learning. Multidisciplinary classroom simulations took place in Vietnam and Nepal at the beginning of this project.
The protocol of simulation learning and the teacher's role in simulation was one of the main aims to clarify for all the participants. Remote learning experiments concerning simulation learning were multi-disciplinary and multi-campus simulations and in addition, video simulations. All these experiments were found as important development steps towards student-active approach and positive pedagogy.
Where do we go from here?
One on the important issues in the final stages of the project was to look forward and brainstorm about potential for future collaboration and further project ideas. Also, due to the covid-19 pandemic, some activities that were planned to be carried out during the project implementation period, had to be postponed. These are areas of work that are still important for the sustainability of the project results and would require further attendance in the future.
Multi-professional approach in the social and health care sector through international collaboration was viewed as an important achievement of the project and as a theme of interest for future project planning. The participants brought up the need to strengthen partner universities' project planning, management and evaluation competence as well as research and publication skills.
In the workshop, the participants also raised thematic issues that have linkages to global level changes as important areas to cover. These include the implications of climate change for health and social sector, and the centrality of human rights, including inclusion, in the teaching and professional practice. Simulation and virtual reality for students as well as student-run clinical practice were also seen as new methods for effective learning and could be possible themes to discover for future collaboration.
Both VID and Diak have experience in student-run clinical practices. For the sake of sustainability, the methodology of Training of Trainers was brought up. Some participants felt that new pedagogical approaches could be better integrated into the teaching in the Nepalese and Vietnamese institutions if the knowledge and skills could be distributed to a larger scale.
The project implementation is coming to an end at the end of the year. The next steps in the preparation of the new collaborations include an analysis of the final evaluation results as well as the monitoring and evaluation process that was carried out by Gazi University in Ankara, Turkey, throughout the project implementation period. Based on these findings and results of the workshop carried out in Oslo, new project ideas are identified. The aim is to start defining these into project proposals during next year.
Pysyvä osoite: http://urn.fi/URN:NBN:fi-fe2022101862402