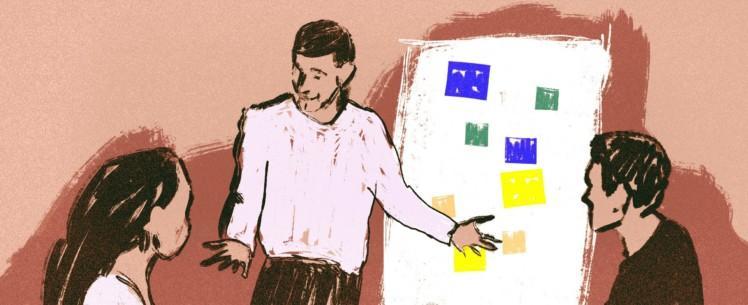 Juttutyyppi
Blogi
Perceptions of online Master studies
Online studies bring a lot of flexibility but studying the whole degree without physically meeting your peer students feels lonely. What kind of skills do you need to navigate through the online Master studies?
As the first group of Diak's new online master's programme, the authors share their experiences on online studies highlighting some of the pros and cons of online Master's program.
Flexibility and access to studies
It is of no doubt that since the outbreak of COVID-19 the computer and internet has seen an outburst of new computer applications to facilitate distance meetings and interactions. Flexibility and easy access to study material has allowed students to choose where and how they want to study. Current Masters' students can study in distinct locations in and out of Finland without needing to commute to campus. They access course materials and follow-up recorded classes exercising convenience brought about by e-learning, thereby providing great relief to time-starved people (Howlett, et al., 2002). This material availability allows students to set their own learning targets especially in group tasks or individual assignments.
On another scale, this degree was fashioned to suit those in working life and this method of studies makes it possible for student workers to balance their schedules conveniently, as classes are mostly in the evenings and few times a week. In a situation where you wouldn't be able to attend a physical class, it is still possible to carry-on with classes conducted online. All you need is a computer and internet connection at the comfort of your home or another location.
Self-management plays big part in online Master studies, like it does in working life as well.
It is of no doubt that our technological knowhow has improved. The school's study interface (Diakle) and the IT department have facilitated this. Before this program, many students could barely operate on interactive programs like Zoom or Teams but that has changed significantly. Diakle (Diak student portal) provides all tools to promote active learning which shifts the focus from what instructors teach or deliver to what they want students to be able to do with the course material there (Ghilay, 2017). Students have become versed with these programs and even organise meetups amongst themselves. New doors of studies can be accessed; online libraries, result slips can be accessed and printed conveniently, visiting lecturers can lecture from their comfort zones. Even student ID cards are now virtual all thanks to digitalisation.
Even though studies feel lonely sometimes, the Master's program has taught students to be independent and organised. The platform carries instructions and materials, but it is your responsibility to balance school and other life commitments. Self-management plays big part in online Master studies, like it does in working life as well. One needs to self-motivate to keep up with the assignments and schedules as the interaction with peer students is not so regular as in previous degrees.
Even though most of the students have only met online and not face-to-face, we have managed to build a good bond and support each other with the studies. Working life is also shifting more to remote work and being able to build and maintain work relationships in online environment is a necessary skill to master. 
Dear peer students and teachers
Without self-management and self-orientation, it is hard to study online. The lack of seeing peers face-to-face and not being able to reflect thoughts together have been the biggest cons. Even though you can talk online, the natural discussion between peers about the learned topics in a coffee break is missing. Also, according to Laato et al. (2022) the most common challenges students face on the online studies are related to the lack of interaction with the teachers and peer students.
In order to get good learning outcomes, the online courses should be well structured, and all the study material should be provided from the very beginning (Sun et al., 2016). Sometimes the instructions have been poor and getting in touch with the teachers has been difficult. Walker et al. (2022) points out, how in online studies the role of teachers is to be a facilitator, a coach and a mediator, as the students should be more important than the content. Also, according to Bordi et al. (2018) inadequate or insufficient messages increase the workload and might have a negative effect on wellbeing.
Navigating through the studies on your own may teach self-management, but it can leave the students with a sense of loneliness, which can decrease the motivation. In order to minimize the number of drop-outs, digital learning environment requires new and more supportive pedagogical approaches, such as fostering relationships and communication between teachers and students, and engaging students by collaborative assignments. Even though teachers are the facilitators it is important to remember, that building a functional online learning community requires commitment from both, instructors and students. (Sun et al., 2016; Laato et al., 2022.)
Necessary skills of online era
Without a doubt there are positives and negatives in online studies. Students have gone through feelings of loneliness and found themselves questioning if they can make it, but at the same time they have managed to build a good bond and to support each other with the studies. Maybe it just takes time and learning, from both students and teachers, to adjust to an online era and strengthen the skills needed. As working life is also shifting more to digital environment, self-management, new forms of communication, and being able to build and maintain work relationships in digital environment are necessary skills to master (Bordi et al., 2018).
References
Bordi, L., Okkonen, J., Mäkiniemi, J-P., Heikkilä-Tammi, K. (2018). Communication in the Digital Work Environment: Implications for Wellbeing at Work. Nordic journal of working life studies. https://trepo.tuni.fi/bitstream/handle/10024/103342/communication_in_the_digital_work_environment_2018.pdf?sequence=1
Ghilay, Y. (2017). Online Learning in Higher Education. Nova Science Publishers, Inc.
Laato, S., Farooq, A., Vilppu, H., Airola, A. & Murtonen, M. (2022). Higher Education during Lockdown: Literature Review and Implications on Technology Design. Hindawi, Education Research International. https://research.utu.fi/converis/portal/detail/Publication/175558759?lang=fi_FI
Robert J Howlett, N S Ichalkaranje, Lakhmi C Jain, & Graziella Tonfoni. (2002). Virtual Environments For Teaching And Learning. World Scientific.
Sun, A., & Chen, X. (2016). Online education and its effective practice: A research review. Journal of Information Technology Education: Research, 15, 157–190. http://www.informingscience.org/Publications/3502
Walker, J. & Warner, D. (2022). Transformative Digital Communities Through Participatory Method. Tampere University of Applied Sciences. https://www.theseus.fi/bitstream/handle/10024/755984/Educational%20Leadership_Global%20change%20agents%20in%20action%20%28002%29.pdf?sequence=2&isAllowed=y
Permanent address: http://urn.fi/URN:NBN:fi-fe202301021051